keyboard_arrow_left
Back to products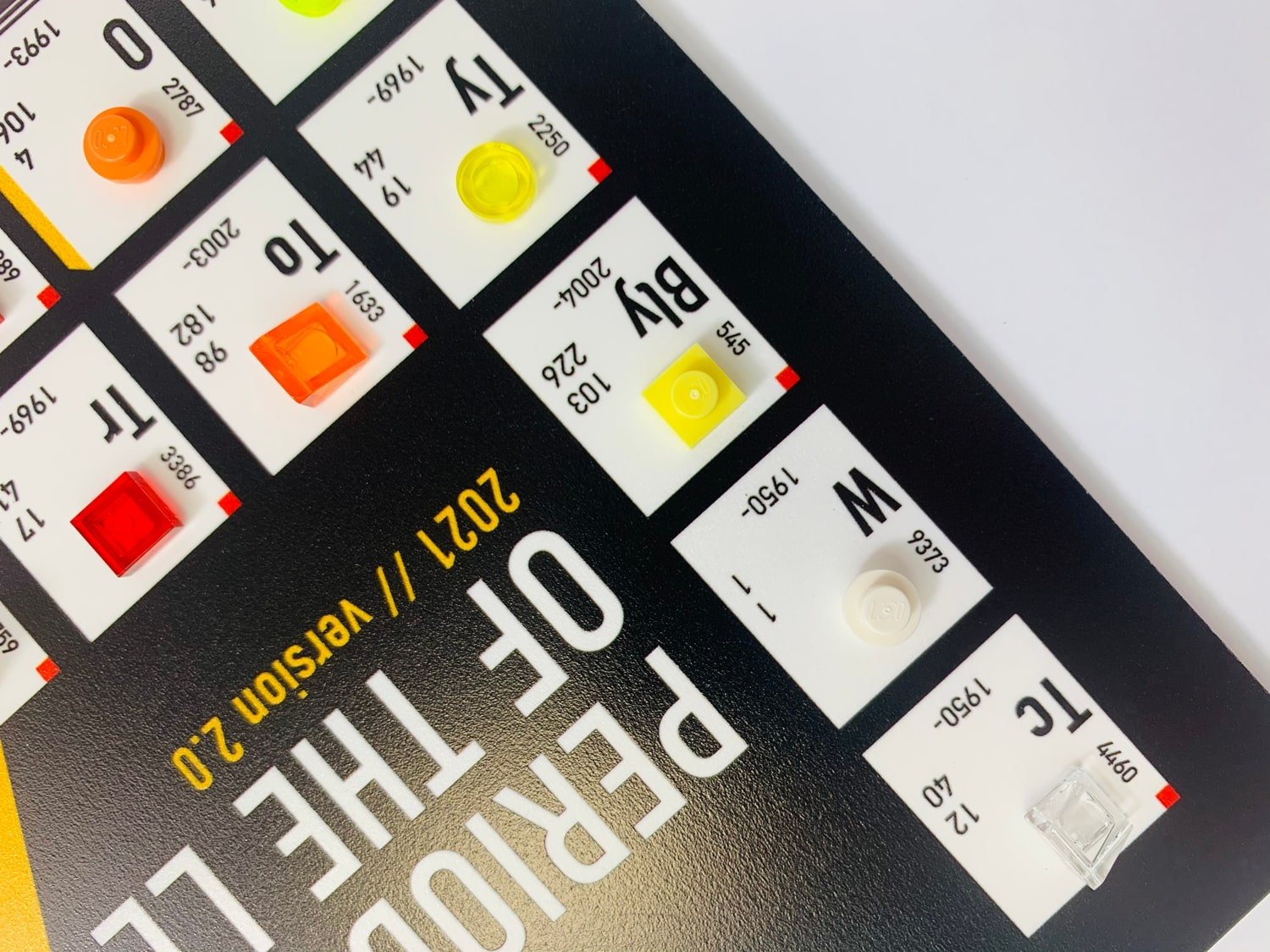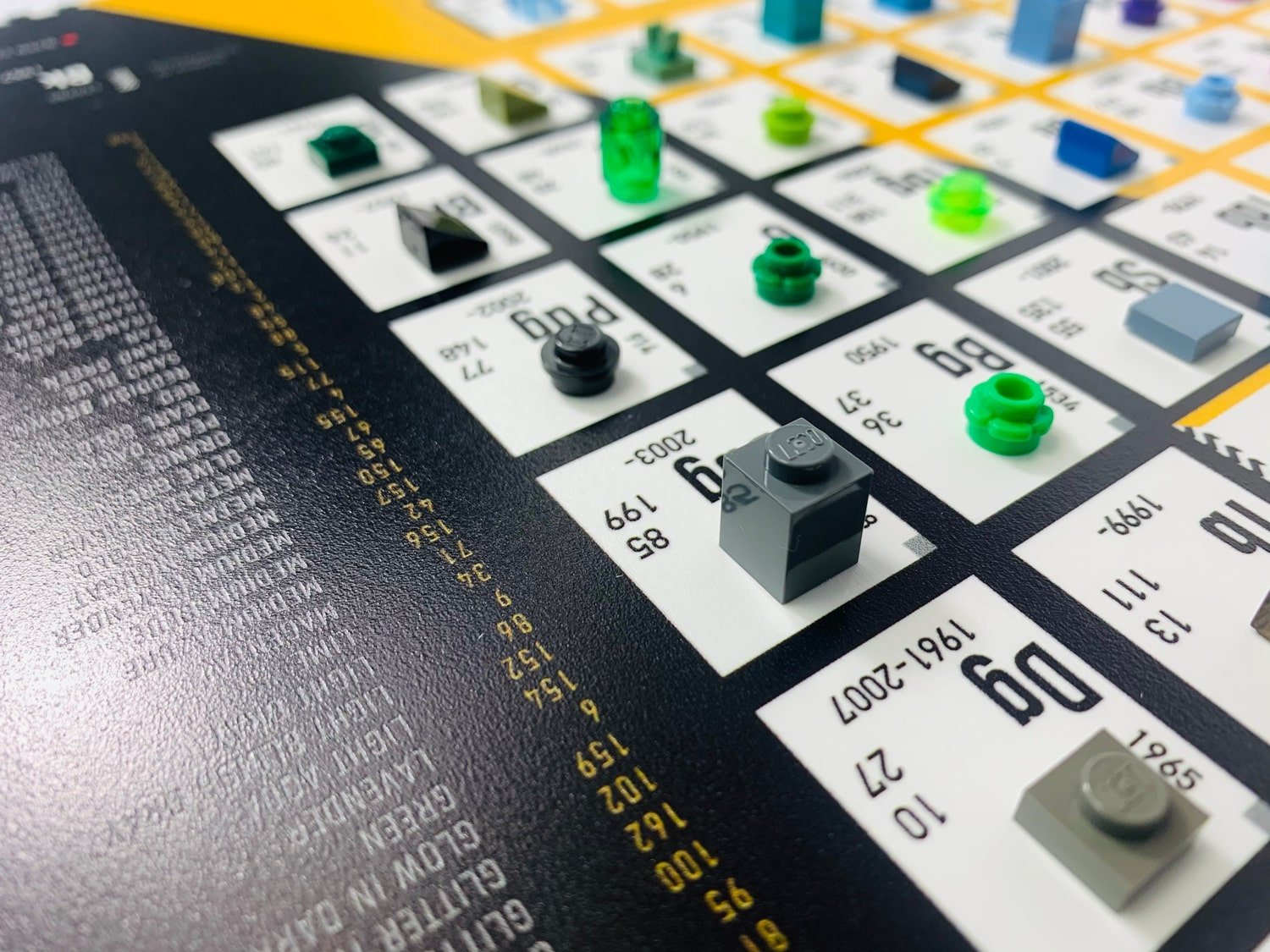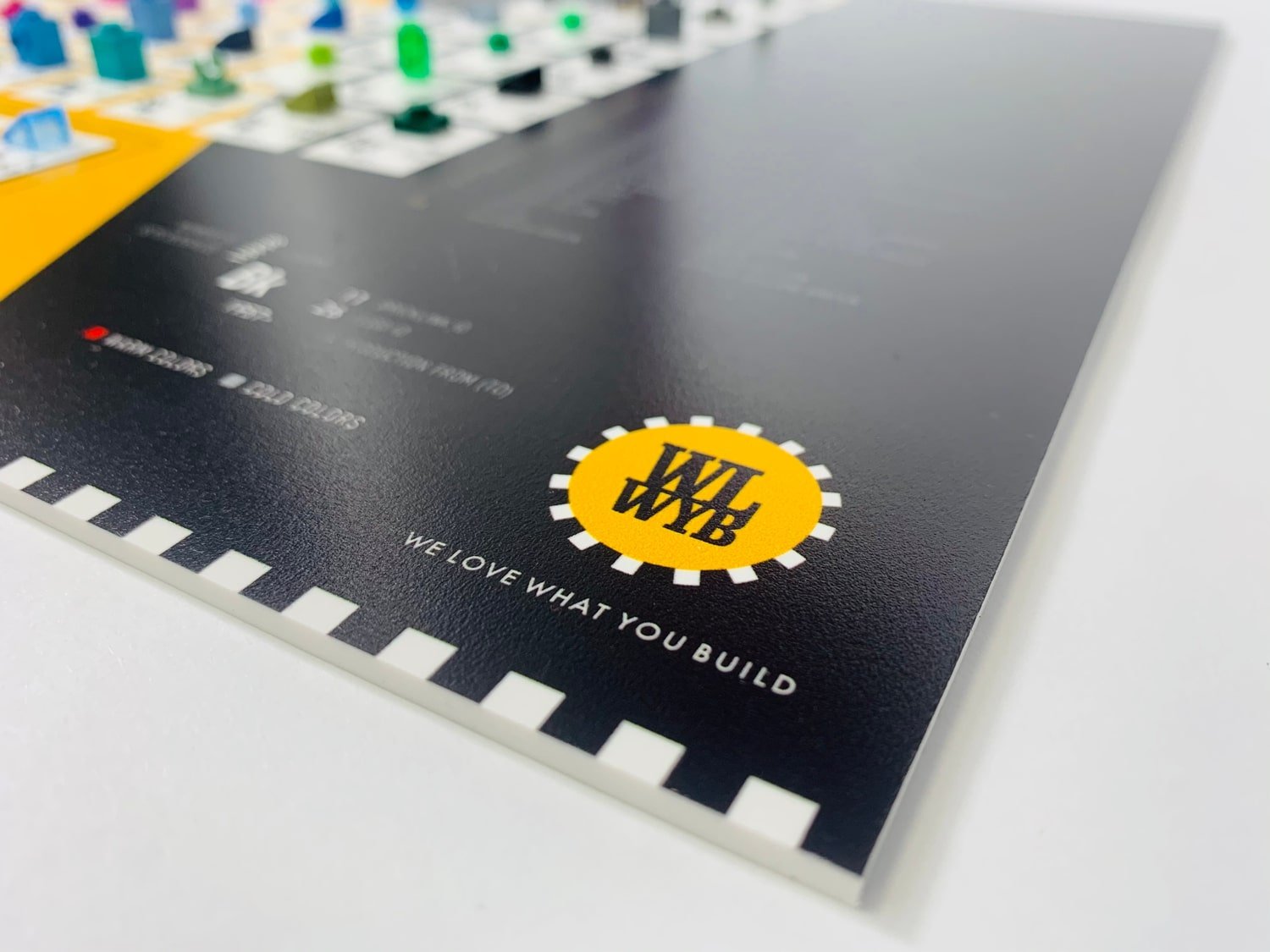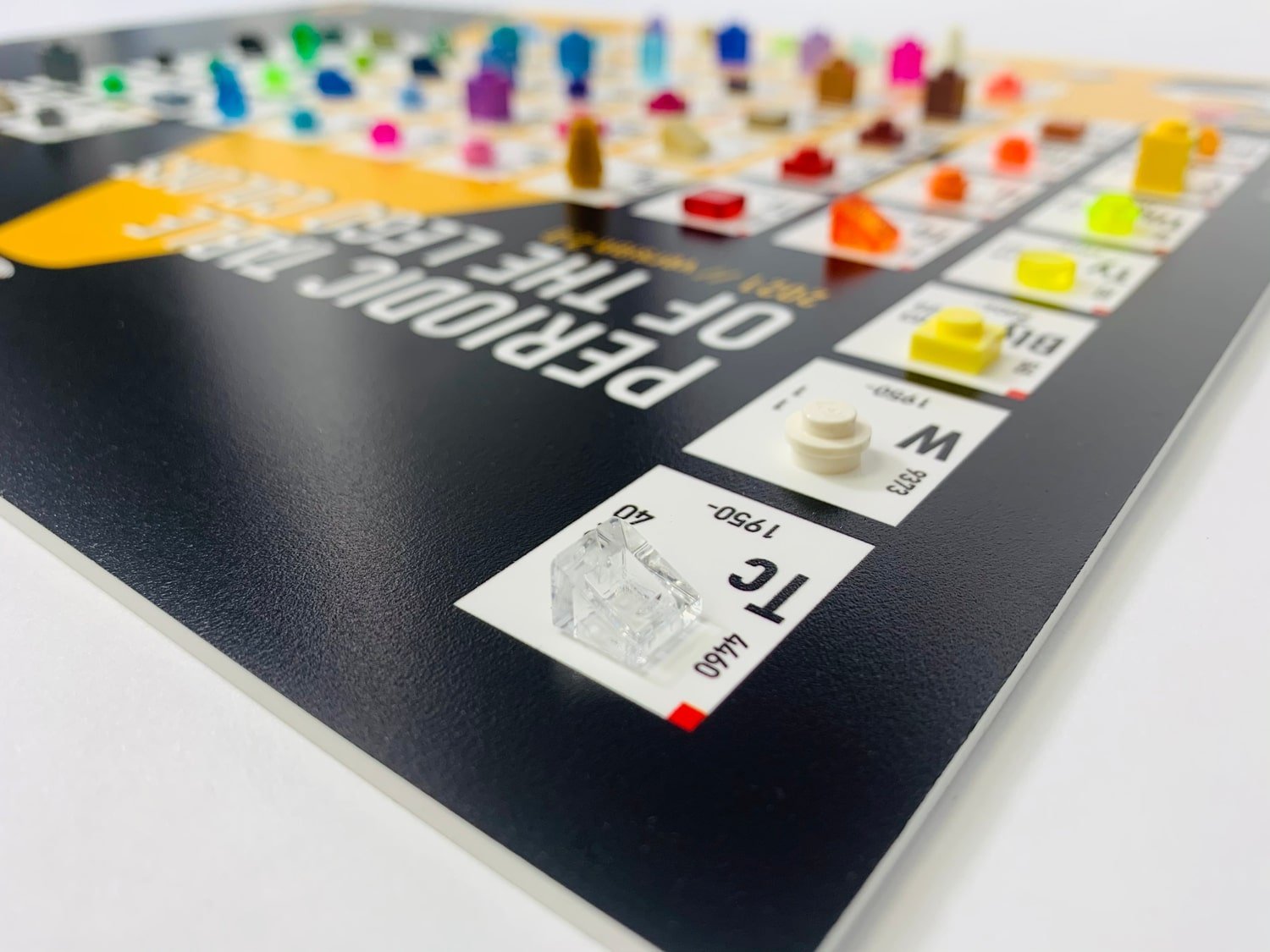 The Periodic Table of LEGO Colors V2.0
$39.95
Free standard shipping worldwide!
In the early days of LEGO, there were only a handful of colors. White, tan, yellow, orange, red, blue, green, grays, black, and some translucent colors were introduced back in the 1950s and '60s. LEGO fans were limited to this narrow color palette. The downside of this was that they could not make their models very realistic; everything from houses to spaceships was built with the same few colors. Through the following decades, more colors were added. Some were short-lived, while others we still have to this day.
So how can you take advantage of LEGO colors? 
Using more colors helps you to tell a story, to combine colors to highlight important details of a LEGO project.
If you spot a color that you would like to work with, but you aren't sure how to combine it with other colors, just look at the Periodic Table of LEGO Colors. It will show you the number of the sets the color appears in, and you can study the optional color combinations. The Bricklink and LEGO IDs also guide you through all the pieces made in that color, so you know if you can get everything for your project.
The Periodic Table of LEGO Colors helps you to better understand the power of LEGO colors throughout decades and also improve your creativity to freshen up your own builds.
The Periodic Table of The LEGO Colors V2.0 turns those stark, bare walls into stylish centerpieces.
The Design:
Other than bumblebees, yellow can be the perfect pimp on anything black…and of course colorful pieces are highlighted much more in this dark background. Beyond BLING effect we made design changes to fit in every environment.
The Colors:
We've added 2 new colors to build new vibes on 'The Periodic Table of LEGO Colors V2.0'. A dividing (dotted) line splits the board into warm and cold tones to demonstrate the contrast and the diversity of LEGO hues.
The Details:
Less is more… they say, but in case of 'The Periodic Table of LEGO Colors V2.0' there is no such thing as too much information. Featuring 65 different colors in 12 different shapes. Every box tells you the official LEGO names and BrickLink IDs of the colors. From now on you'll also know in how many sets can you find a specific tone.
#office #home #kidsroom #NoMoreBoringWalls #Easy_to_hang #Lightweight #Colorful #Fun #Unique #LEGO #Rare_Colors #Everything_Is_Better_When_We_Stick_2gether #AnotherBrickontheWall #EveryBrickHasAnOwnStory #walldecor #legowalldecor
Package: 1 piece
Item Weight: 12.3 oz / 345 g
Size: 15.7 x 11.8 x 0.6 in / 40 x 30 x 1.5 cm
Product Features:
12 different shapes
65 different colors
New and Genuine LEGO parts
Hey, it's glowing in the dark
Handy tool for LEGO Designers and everyday builders
The best background to lighten up boring meetings
Great accessory to a kids room
Handling Instructions (Irony Alert!):
Dry clean, use soft brush against dust
Do not bleach or iron
Handle with care
Learn each color's name
No assembly required (blank wall, hammer and nail is not included)
Please note:
We don't recommend this product for dogs, as dogs cannot distinguish between red and green colors, so they won't enjoy this product that much. And it's not even edible.
How to use?
The Periodic Table of LEGO Colors is like the Pantone color chart for designers but slightly geekier by featuring the most popular LEGO colors in 2021.
Are you familiar with the feeling when it is hard to spot the slight variations between similar shades of LEGO colors? It's oooooover. 🙂
There are more than 180 distinct colors in the LEGO rainbow while some of them may look similar but The Periodic Table of LEGO Colors has an excellent distinction to show off the difference between the 'light grey' and the 'light bluish grey' for example.
A perfect handy tool for collectors and builders – from novice to pro – to spot the difference between ticklish shades. After all, it's important to know your palette before you set out to make your masterpiece.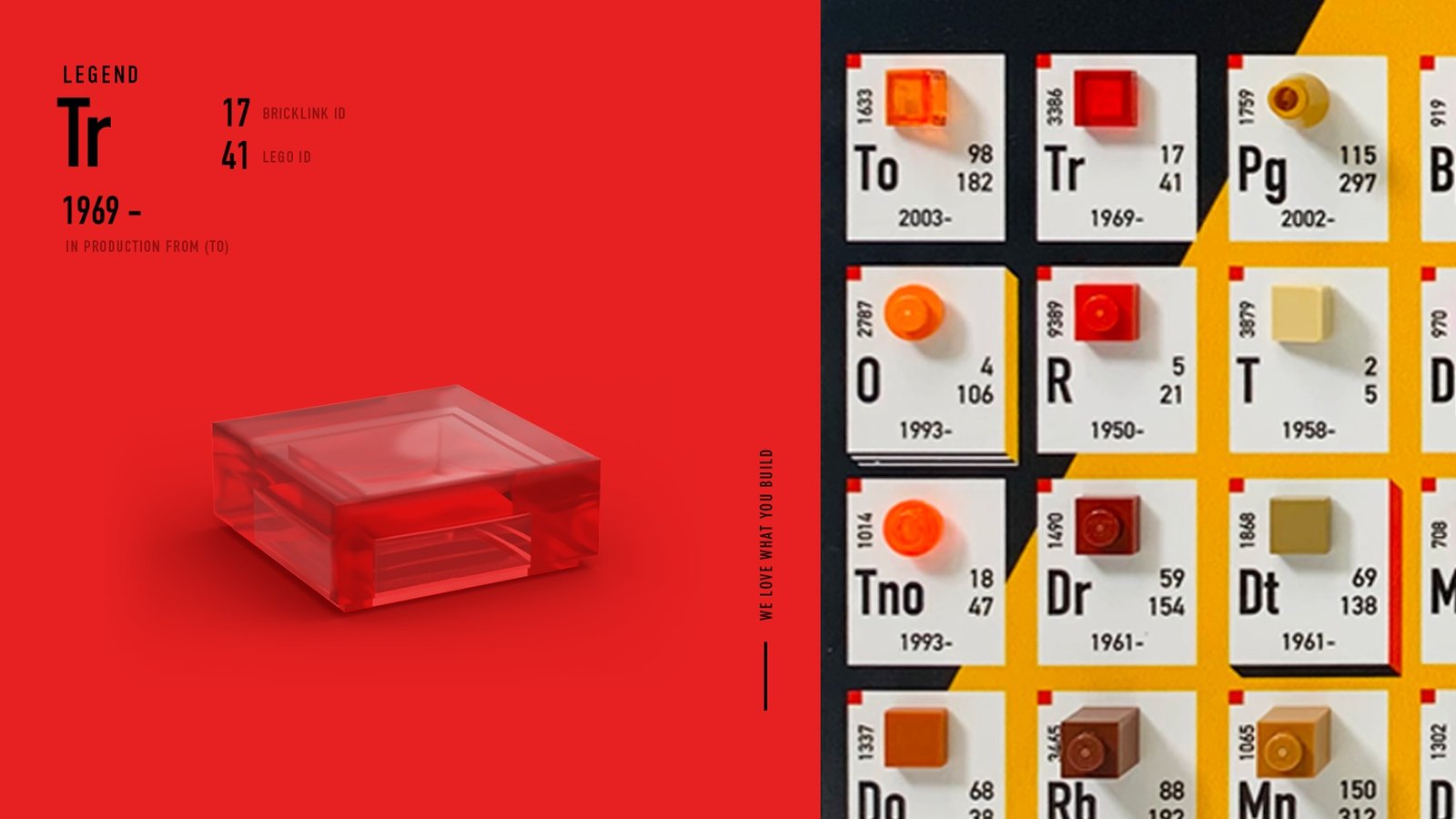 The 'science' behind'
The core strength of The Periodic Table of LEGO Colors is its 'unplugged' physical way to demonstrate 65 different colors via new and genuine LEGO parts.
Before you can understand its 'unplugged' strength, it's useful to understand how color works.
You may recall that there are three 'primary' colors of light: red, green, and blue. Digital devices (computer, laptop, tablet, smartphone…etc.) can create any color by mixing those three colors; when mixed in equal parts they create white light. This is why colors on your digital devices are often described as "RGB", short for red, green, blue, and colors are often more vibrant than in real life.
LEGO bricks are not made of light; they are made of plastic. Pigments are mixed in the right proportions to ensure that every LEGO brick is the right color. The color you see when looking at a LEGO brick is the color reflected by the plastic brick when a white light is pointed at it.
This is why it is difficult and pointless to compare physical bricks with colors on a monitor.
Perfect for
LEGO Builders – boost their creativity to freshen up their own LEGO builds and help them study the optional color combination to achieve realistic building skills.
Collectors – help to better understand the history of LEGO colors through decades.
LEGO Part dealers – help buyers and sellers on BrickLink better identify part colors and also help to better understand how and why different LEGO colors affect the price of LEGO bricks and pieces.
LEGO fans – great accessory / wall decoration for kids- and AFOL's room and a unique gift for every LEGO lover btw.